Positive tips for working at Home
Many people today have a unique experience in the ability to work from a home office. When you are working from your home, there are many daily temptations surrounding you to get you off your game.
These are a few tips in what creates a rewarding work day in the home office: Keep a regular schedule, set a start and stop time for your work day, otherwise you may end up spending either too little or too much time working.
Set aside a space for your work, create an office area that is strictly designated for the times that you are working. Tell your family, friends or room mates that you are working during the times you have set out. Ask them to please leave you alone, so that you can focus on your work.
Hard work pays off, do not take the lazy way out, it is easy to develop negative habits when working at home. Do not let your work lack just because your environment is at home. Get dressed, wash up and get out of those pajamas! It is important to treat working just as you would any other office. Your attitude will be far more positive. Take small breaks every hour or so and move your body. A small exercise program, perhaps a 5 min walk or some stretches can do wonders for your overall health.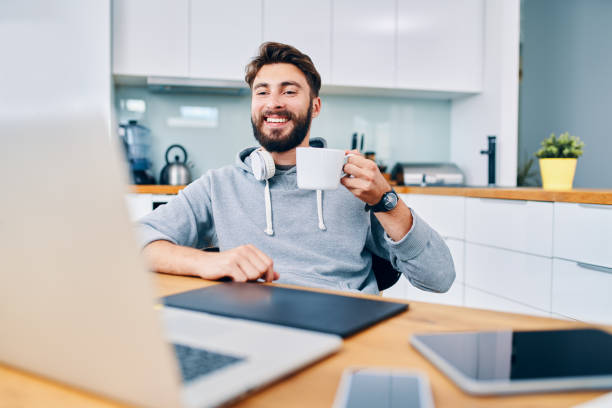 Evaluate your income generated versus the amount of time you are investing. This is especially important if you are in or starting up your own small business. Enjoy your day, listen to your favorite music, surround yourself with images, art, and other positives that you can line up your vision and hearing with.
Taking some positive steps to working in a Home Office is an excellent way to increase productivity and growth in your work.